I present to you this crazy Japan tuner: BRE DragRacing.
It's a drag racing tuner for minibike. It's not a big brand but more like a craftman. They're well known in the world of High End monkey engine tuning.
They many world record on 1/4 mile and 1/32 mile:
4C 4ST 125cc sous 
3.270Sec
4C-4ST GT 125cc  
3.570
sec
4ST sous 90cc classe 4B 
3,646 sec
Here is there last drag bike: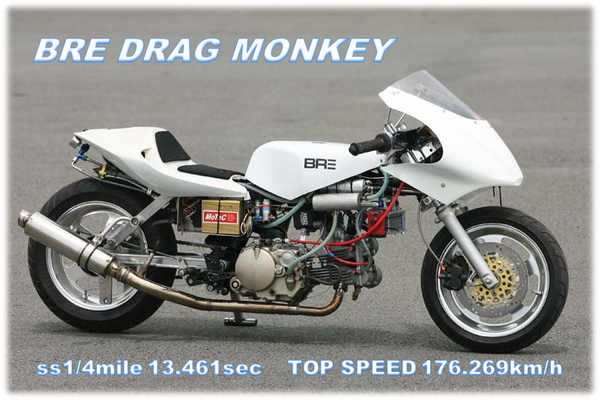 The engine is a Kitaco DOHC 124cc fully prepared and also with NOS system. This engine is normally made for a carburator but here they installed a Fuel Injection system.
Max power with NOS system at 700psi: at the crankshaft is

32,9Ps

at 12510rpm, and near 30Ps at 12510rpm, at the gear box output.
And with the NOS between 750-1200: between 37,5 to

40Ps

!
The max speed is

176,26km/h

!!
It's really a sick tuner!
They can make a full head preparation.
Sometimes ago they've another drag bike with 50 engine fully prepared with FCR28 carb'!! Yes 28mm carb' on a 50! Crazy!